Question from homeschool mom, Terri:
I am trying to make a more accurate timeline of old testament events from an old earth perspective. Many Christian timelines are inaccurate. Where is a good source for accurate dating of Old Testament events as they fit into world history?
First of all, I LOVE timelines. I love to use them when I teach and I just plain love them because they help organize my thoughts. Even when I was a student in college, I would make charts to help me study.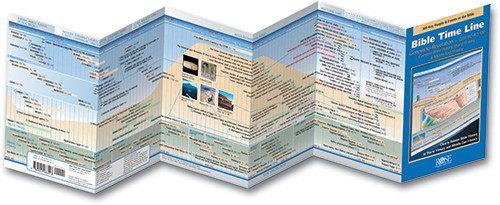 I would begin with Abraham. His date is widely agreed upon - somewhere around 2000 B.C. There is some disagreement about the timing when you get to Moses and Exodus (about 150 years; this is the whole early date/late date controversy). There are evangelicals on both sides of this issue who make good arguments, so I wouldn't say there is one "conservative" and one "liberal" position. It's not that black and white.
Bryant Wood
(PDF) represents the early date view and
James Hoffmeier
(PDF) and Kenneth Kitchen represent the late date. Anyways, I would just make students aware there are two Christian positions on this issue and focus on the main point and that is, however these dates might be reconciled, the Bible teaches real history; we just might not have an adequate understanding of all the data yet. Everything after the Exodus is pretty standard among most archaeologists.
A good timeline for these purposes is made by the good people at Rose Publishing
. (Love their stuff!)
The events prior to Genesis 12 is where issues related to the age of the earth will come into play. When was Babel? The flood? The creation? The appearance of humans? etc. From an old-earth perspective, you might find
this creation timeline
of some help. It's not authoritative, but it will give you an overview of how my colleagues at Reasons To Believe try to harmonized/integrate the "days" of Genesis with the natural record.
This timeline ends at the creation of humans. From there, you might find this
visual explanation of early human migration
to be helpful. Then move on to this
timeline of human history
. One key event to keep in mind is the Neolithic revolution. This is a line of historical demarcation because that was the time when people began living in civilizations, farming and domesticating animals. Prior to that, humans lived predominantly in a hunter-gatherer culture.
Then, of course, the question arises, how does this information fit into Genesis 1-11? You can read Hugh Ross' ideas about this topic in his book,
The Genesis Question
. For example, he puts the flood around 35,000 to 50,000 years ago.
My personal view is that Babel corresponds with ancient Mesopotamia, somewhere around 3000 B.C. to 2500 B.C. My friend Carol Hill has written a series of thoughtful papers on the early chapters of Genesis, which are housed on the ASA web site. I'll just link to my favorite one here: "
A Time and Place for Noah
." She outlines her case for dating Noah around 3200 B.C. to 3500 B.C.
I hope that's helpful. Great question!